Wildfires
Chave Weather
YouTube
Fri, 24 Apr 2020 13:03 UTC
---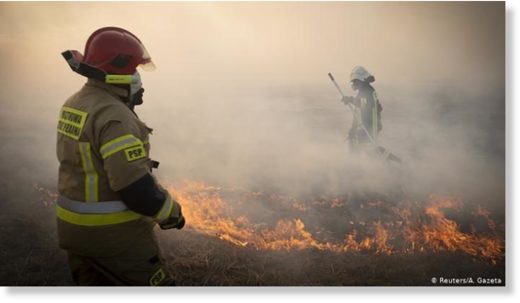 Some 6,000 hectares of Biebrza National Park in northeastern Poland were ablaze on Wednesday, as more than 120 firefighters rushed to extinguish the flames. Biebrza is home to 59,000 hectares of wetlands, wildlife such as moose, beavers, and unique species of birds, and hiking trails.
"It is impossible to calculate the loss. This is a tragedy, it cannot be described. We may have to fight this fire for months," park employee Janina Agnieszka Zach, told Polish broadcaster TVN.
Environment Minister Michal Wos said that the fire, which began burning on Sunday, was likely caused by illegal grass burning - a method sometimes employed to clear swaths of dead grass.
---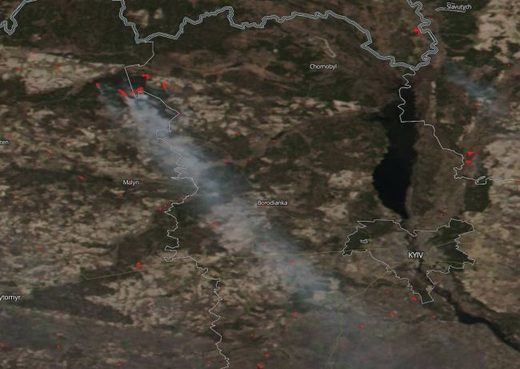 The forest near the old
Chernobyl
Nuclear Power Plant is burning, and the effects are visible from space.
The
Suomi NPP satellite
, a joint project of NASA and the U.S. National Oceanic and Atmospheric Administration (NOAA), captured a photo Sunday (April 5) of the human-caused wildfire burning in Ukraine's Chernobyl Exclusion Zone.
Radiation counts near the fire have registered 2.3 microsievert per hour, a spike from the typical 0.14 μSv/h
,
according to Live Science
.
"At this point, the fire is about 250 acres (100 hectares)," NASA officials
wrote in an image description
. "Actively burning fires, detected by thermal bands, are shown as red points."
---
Chave Weather
YouTube
Wed, 01 Apr 2020 14:14 UTC
---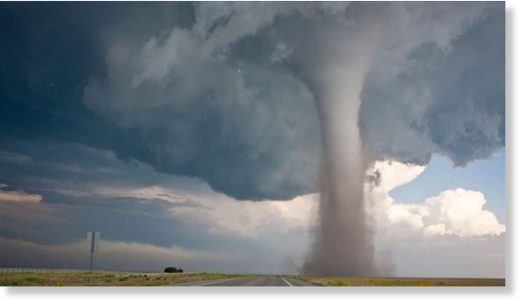 At least 42 people die in floods, landslides caused by heavy rains in southeast of Brazil
The third month of 2020 saw numerous environmental disasters that impaired climate change and vice versa, including a deadly tornado in the U.S., landslide in Brazil and heavy rains in Pakistan.
Here is a look at the global environmental disasters during the previous month.
March 3:
- At least 19 people die in the U.S. state of Tennessee as a result of a heavy tornado that also causes major damage to buildings, roads, bridges, utilities, and businesses.
- Some 900 people are displaced after flash flood destroys houses in Central Sulawesi, Indonesia.
March 4:
- Hundreds of people are either displaced or left isolated after floods in northern parts of Namibia, according to local media reports.
---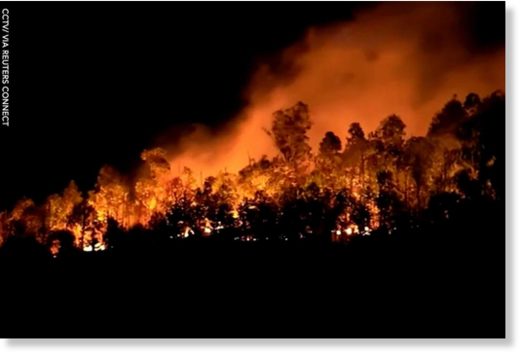 A massive forest fire in southwestern China has killed 19 people, according to a state media report on Tuesday (March 31).
Eighteen firefighters and a local guide were confirmed dead, from a group of 21 firefighters who went to fight the blaze that had spread over more than 1,000 hectares of land near Xichang, a city in Sichuan province.
The fire started on a farm on Monday (March 30) afternoon and quickly spread to nearby mountains due to strong winds, according to local reports.
---
RT
Wed, 04 Mar 2020 12:51 UTC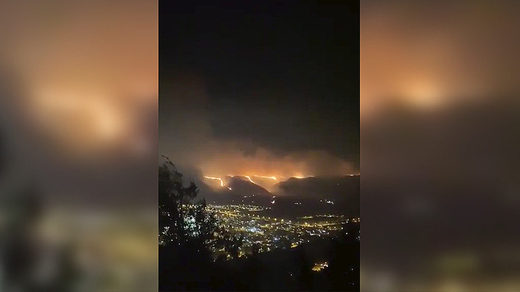 Evacuations are underway and firefighters have been deployed en masse after a wildfire broke out near the town of Esquel in Argentina's Chubut province. Residents watched in despair as their homestead became a fiery hellscape.
At least 90 firefighters are working tirelessly to extinguish the flames before the outbreak can spread any further. Firefighting planes, helicopters, along with numerous fire engines and tankers have been scrambled to help battle the blaze, which is spreading rapidly across the dry grasslands in the area. An eyewitness video shows the nightmare unfolding.
High temperatures in recent days rendered conditions perfect for such a bushfire to break out and the nearby highway Route 259 was closed temporarily as flames encroached on that main transport artery.
---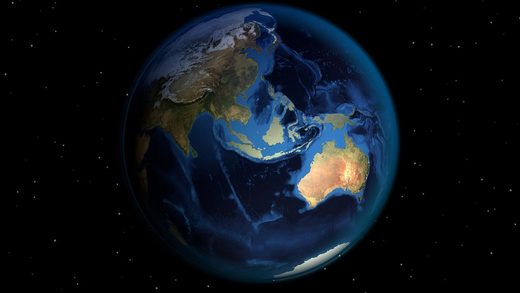 Global food production is being hit from seemingly every side. Thanks to absolutely crazy weather patterns, giant locust armies in Africa and the Middle East, and an unprecedented outbreak of African Swine Fever in China, a lot less food is being produced around the world than originally anticipated. Even during the best of years we really struggle to feed everyone on the planet, and so a lot of people are wondering what is going to happen as global food supplies become tighter and tighter. The mainstream media in the United States is so obsessed with politics right now that they haven't been paying much attention to this emerging crisis, but the truth is that this growing nightmare is only going to intensify in the months ahead.
In Australia, conditions have been extremely hot and extremely dry, and that helped to fuel the horrific wildfires that we recently witnessed.
And everyone knew that agricultural production in Australia was going to be disappointing this year, but it turns out that it is actually going to be the worst
ever recorded
...
Australia's hottest and driest year on record has slashed crop production, with summer output expected to fall to the lowest levels on record, according to official projections released Tuesday.

The country's agriculture department said it expects production of crops like sorghum, cotton and rice to fall 66 percent — the lowest levels since records began in 1980-81.
---
---
Ellie McLachlan
Canstar
Tue, 21 Jan 2020 01:33 UTC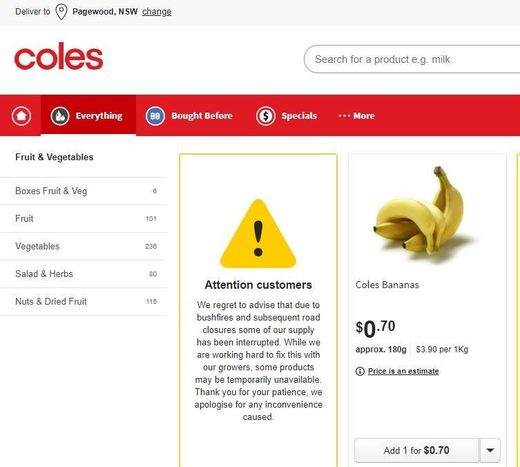 Australians at supermarket checkouts could be the next to feel the effects of the wild weather that has decimated entire crops and limited the supply of goods. Here are some of the products you may need to budget a higher price tag for in the next few months.
The ongoing
bushfires
that have been ravaging the country since September 2019 - combined with a prolonged and severe drought in many areas - have weighed heavily on farmers and the delivery of fresh food and will result in short-term price increases on fruit and vegetables, according to vegetable industry association AUSVEG.
In fact, people who shop for their
groceries online
with Coles may have already noticed some items are unavailable due to "bushfires and subsequent road closures".
Industry experts and the government have said that in addition to fruit and vegetables, a number of other products such as honey, milk, wine and meat could go up in price as well.
And it doesn't come at a great time, given people are feeling less motivated to spend while their fellow Australians are suffering, according to AMP Capital Chief Economist Shane Oliver.
"The constant terrible news since October about the bushfires along with the smoke in cities is likely weighing further on the national psyche adding to weakness in consumer spending," Dr Oliver said earlier this month in an
analysis
of the bushfires' impact on the Australian economy.
Wild weather events have continued since he made that point, with widespread rainfall giving the fireys some reprieve, but also bringing
massive hail, floods and dust storms
.
AUSVEG and other groups have urged Australians who can afford to do so to keep buying produce to support farmers and regional communities in their recovery from these events. The Australian Government has so far made
grants
of up to $75,000 available for farmers and other primary producers who have been impacted by the fires.
---