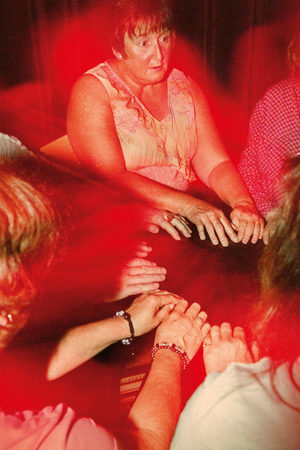 Shannon Taggart was never a big believer in ghosts. But that changed in 2001, during one of her first visits to Lily Dale — a hamlet in southwestern New York state that's home to the world's largest spiritualist community.
The Brooklyn photojournalist was taken by surprise while watching a private reading with Gretchen Clark, a fifth-generation medium.
"All of a sudden, she started laughing at nothing," Taggart tells
The Post
. "Apparently the spirit of her brother was in the room and told her a joke."
"I told him not to interrupt me while I'm working," Clark explained to her client and then turned to an empty spot and yelled, "Chapman, we've talked about this!"
She composed herself and returned to the reading and then just as quickly turned back to Taggart.
"Margaret's here," Clark announced.
"Margaret? I don't know any Margaret," Taggart insisted.
Clark closed her eyes and listened. "She says 'Texas.' What does 'Texas' mean?"
Taggart instantly knew. "My great aunt Margaret lived in Texas and she'd died a few months earlier," Taggart says. "I'd totally forgotten. My whole body just tensed up. It was truly spooky."
That encounter was just the beginning of a spiritual awakening for Taggart, who would spend the next 18 years documenting mediums in New York as well as Essex, England, and Antequera, Spain. More than 150 of her photographs, many never before seen, are published in her new book
Séance
(Fulgur Press).