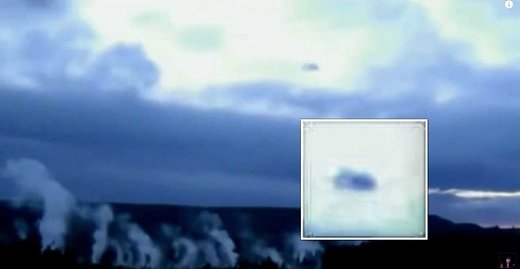 Chilling footage reveals several large UFOs flying over the gigantic Yellowstone super-volcano which alien hunters now suggest may be an alien base.
Sweeping through the clouds above Yellowstone National Park in Wyoming appears what looks to be a massive flying cylinder more than 300 feet long (100 meters) above a gigantic super-volcano that has been dormant for over 70,000 years. UFO hunters claim that NASA has been interrupting its live feed whenever a UFO is near the International Space Station.
While scientists have long speculated that an eruption of the massive volcano could kill some 100,000 people and ignite a nuclear winter, UFO hunters now believe that the explosive mound of molten lava serves as a feeding source for alien life forms drawing on the volcanic energy.