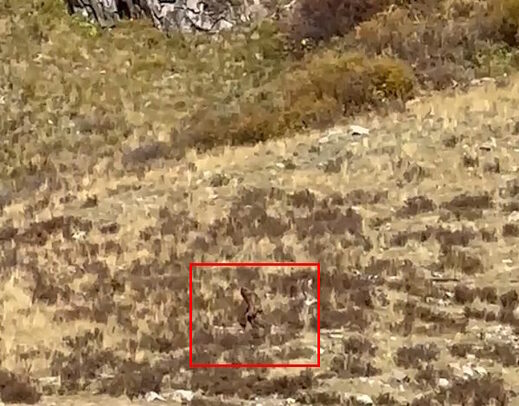 Shannon Parker and her husband Stetson were riding on a popular train through Colorado when they spotted a bizarre figure moving through the mountains.
Alleged Bigfoot sightings and stories of a large, apelike creature aren't rare, although proof to back up the claims is usually nonexistent or limited at best. However, OutThere Colorado shared the video captured by the couple, and some people on social media believe it's the real deal.
The couple was riding the Narrow Gauge train from Durango, Colorado, to Silverton, Colorado, when they said they spotted a biped, hairy creature moving through the mountains. A nearby passenger quickly began recording as Shannon Parker snapped some photos with her phone.
The
video
shows the creature lumbering through the hillside before squatting down in a seated position.
"It's an elusive creature," one person can be heard saying in the background. The video has been viewed more than 500,000 times on X, formerly
Twitter
.
Shannon Parker also posted her experience
on Facebook
and said they saw the creature on October 8 while the train took them to Durango.
Parker asked her husband to look for elk in the mountains, but he saw something else that caught his attention.
"As we are passing by the mountains, Stetson sees something moving and then says I think it's Bigfoot," Parker wrote on
Facebook
. "Y'all, out of the hundreds of people on the train, three or four of us actually saw, as Stetson says in the video, the ever elusive creature Bigfoot! I don't know about y'all but We Believe!!"
Parker told
Newsweek
that it was a "once-in-a-lifetime opportunity" and that she and her husband had never seen anything else like it.
She said the responses have been "50/50" with some people alleging that the sighting was staged by the train for publicity.
"When we spoke to the conductor on the train he told us he hasn't ever seen anything like it before and he himself has experienced unexplainable things while snowshoeing in those mountains," Parker said.
The video has been shared widely, particularly on X. Responses to the video vary, ranging from belief to skepticism. Some believed the humanoid creature was a joke, pulled by a man wearing a "gorilla costume."
"Good footage and for sure not a bear. Not sure what to think," one user posted in response to the video. "Somebody got pranked," another X user addedwrote
Others noticed aspects of the creature that were unnatural, possibly pointing toward a Bigfoot.
"That's pretty good footage, it's bent over with hunched shoulders, arms are longer than normal," one person said. "Need more video scrutiny by folks with the software to do so."
Another X user noted that the mountainous location is only reachable via train or canoe/kayak, so it would be difficult for a person to bring a costume out there as a prank on the chance they might be spotted by a passing train.
Others weren't so convinced.
"Looks like Bigfoot is wearing pants," one user quipped.
The legend of Bigfoot gained popularity in 1958, according to the Arizona State Museum, after a man created plaster casts of huge footprints he found around his place of work. However, the legend of the huge, apelike creature likely dates back much further.
"A Native American tradition in the Pacific Northwest tells of a giant hair-covered ogre named Tsonoqua who steals children and food," the museum said. "This is likely the origin of the Sasquatch or Bigfoot legend."
Bigfoot is the most common nickname for a
Sasquatch creature
. The word Sasquatch was derived from the Halkomelem dialectal word "Sésquac," meaning "wild man," the word was first used by the Coast Salish peoples,
Newsweek
previously reported.
Bigfoot sightings
range widely
, with reported encounters on both U.S. coasts and many locations in between. There have been alleged sightings of Bigfoot in the northern California wilderness, Pennsylvania, New York, Ohio, Michigan, and more.
Newsweek
previously reported that Washington state is the most likely place to
spot a Bigfoot
. These sightings span the globe, as well, with some alleged sightings occurring in China.