About Haddy Nuff
I'm a Realist. On the ideological scale I would consider myself a Moderate Centrist for my political beliefs. Appalled with fake MSM news, neoconservative and neo liberal politicians, deep-state globalists and their sycophants -- but I love Sott.net
* I believe we should focus attention on our most pressing issues at home instead of involving ourselves in non-threatening issues abroad.
* The government should not undermine the rights and privacy of its citizens under the guise of national security.
* Government over-regulation stifles innovation and economic prosperity.
* I support free market policies that create opportunity for personal liberty and success.
In General:
* I side slightly towards "Tough" love and have little sympathy for those that break the law or make bad choices.
* Believes the Millennials should loose that arrogant "entitlement" mentality and earn their own salt like the rest of us has to.
* Left or right wing extremists and radical progressives have no place in my world.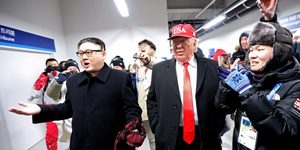 Did The Donald and Rocket Man secretly meet at the Winter Olympics in PyeongChang?
"In keeping silent about evil, in burying it so deep within us that no sign of it appears on the surface, we are implanting it, and it will rise up a thousand fold in the future. When we neither punish nor reproach evildoers, we are not simply protecting their trivial old age, we are thereby ripping the foundations of justice from beneath new generations."
- Aleksandr I. Solzhenitsyn
Recent Comments
Water can indeed be a conduit for 'paranormal' phenomena----especially the Mississippi River. Several years ago, some researchers found that, due...
---
Agree with HFL. It is also funny as I was saying this exact same thing (regarding bullies) to my son the other day: There are assh$les in life,...
---
Don't think I've ever read a better analogy of deep state or the state of the United States.
---
They're "ready" for war with China, eh? With what toughened, disciplined, dedicated, and patriotic soldiers are they "ready"? Is it the...
---
Following on my comment about Leonard Cohen, and somewhat on-topic here, I did a little digging to see if Miles Mathis had written anything. Miles...