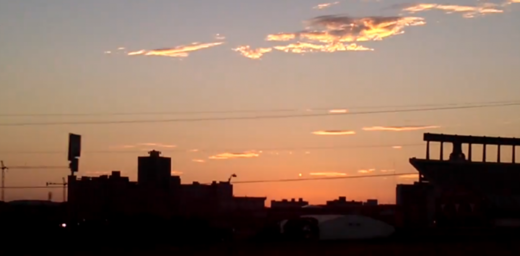 Multiple witnesses are claiming to have seen a UFO flying over Austin, with one resident even recording the mysterious lights. Rachel Jensen, the resident who took the video footage truly believes that what she saw were UFOs.
Fox 7
reports that it was Jensen's roommate who first saw the lights.
The "impressive show" was composed of three lights that looked like to be in a triangle formation.
Jensen said that when she stepped out,
what she described as bright, orange, glowing lights started to separate as soon as they got out.
Witnesses further described the lights as very fast.
She related that they also saw a fourth bright light, which kept moving back and forth
. Jensen made sure to capture the scene on her phone. After getting the footage, she called Austin 311 to give a report.
News Max
reports that Jensen was not the only one who saw the mysterious spectacle.
The American Meteor Society says they have received reports from several witnesses of seeing a fireball in the skies.
The number of people reported to have phoned in from Texas and Louisiana, totaled at five.
A photographer for Overaustin, Christopher V. Sherman, posted a photo of downtown Austin which showed streaks of light in the sky. The picture portrays a beautiful and brightly lit downtown Austin. When one looks closely at the picture, a streak of light can be seen on the right of the photograph.