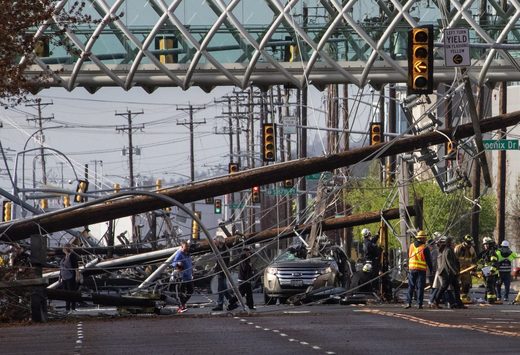 The more than
two dozen power poles that collapsed
near the Museum of Flight on Friday underwent a "full inspection" three years ago, and
showed no risks of a mass failure
, said Debra Smith, the recently-hired CEO of Seattle City Light.
Some were replaced in 2016 as a result, some were due to be replaced within five years, and others had many years remaining, "but there were none that were outside of the identified life span," Smith said in an interview Saturday.
Engineers this weekend are examining the 26 snapped wooden poles for clues, and walking East Marginal Way South to determine how and where to rebuild lines west of the huge roadway, she said.
City Light doesn't have an explanation yet about why any of the poles suddenly toppled at 4 p.m. Friday, causing a domino effect where not just one but an entire row snapped
.

Comment: To be clear, it's not known whether they fell sequentially, as 'domino effect' suggests. They may have come down simultaneously!