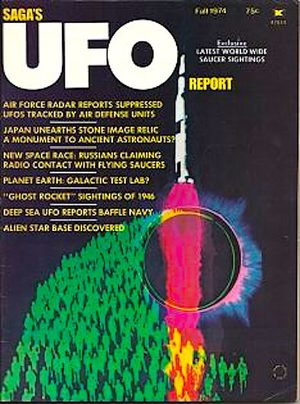 Saga's UFO
magazine for Fall 1974, pictured here, has a piece by my former pal Lucius Farish [RIP] and UFO historian Jerome (Jerry) Clark:
The Ghost Rockets of 1946.
The seven page article presented, as was Farish's and Clark's wont, more than
a representational account of the many cigar (rocket) shaped sightings over Sweden after World War II and other countries too.
And in their article, the usually cautious writers, mention
an incident that allegedly took place during the 1946 sightings.
However, the supposed event wasn't published until 1971, well after many flying saucer [UFO] reports that contained ingredients that are found in the purported 1946 report.
In May 1946, just outside Angelholm, in southern Sweden, witness Gosta Carlsson, a well-know industrialist, while out walking spotted a disc-shaped object with a cupola that appeared to be a cabin with oval windows.
Above it was a mast, like a submarine periscope. Underneath the disc was "a big oblong fin which stretched from the center to the edge of the underside. There were also two metal landing legs. A small ladder reached to the ground from a door beside the fin. The object was approximately 53 feet in diameter and 13 feet from top to bottom at the middle." The witness said he knew this because he measured the marks on the following day.