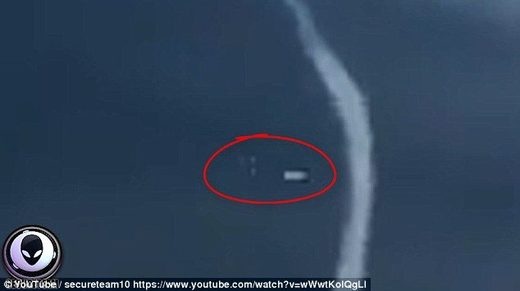 A mysterious new video has emerged which conspiracy theorists believe may show a UFO off the coast of Algeria.
A strange object can be seen flying through the sky, while a waterspout can be seen shooting out of the water and into the air.
It is unclear what the object is, but the uploader of the video believes that it is a UFO.
The clip was recorded on a mobile phone, and was posted on Ohio-based YouTube channel,
Secureteam10
, who regularly post supposed UFO sightings.
In the video, Tyler Glockner from SecureTeam explains: 'Some of the witnesses that saw this thing, say what to them looked like a UFO had flown up into the clouds, shortly after which we see this waterspout like formation, or what amounts to water being sucked up put of the Mediterranean ocean off the coast of Algeria.'