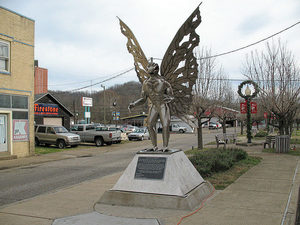 A Mothman-type creature is being reported in Chicago by three separate witnesses over a four-hour period, according to three witness reports from the Mutual UFO Network (MUFON) witness reporting database.
The cases took place between 10 p.m. on April 15, 2017, and 2 a.m. on April 16, 2017. Please beware of all case details until an investigation is completed. At this point in the investigation, a hoax cannot be ruled out.
In Case 83325, the witness was out on Lake Michigan with her husband and two other couples celebrating a friend's birthday.
We were about two miles out on the lake, just off of Montrose at about 10 p.m.," the witness stated. "We were enjoying ourselves when I happen to look up and saw what looked like a giant bat, and not like a fox bat (which I looked up and saw was the biggest bat).
This bat was as tall as my husband, who is 6-foot, 4-inches, or even bigger.
The witness described the creature: