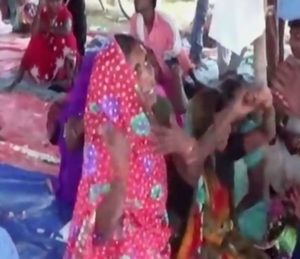 This bizarre footage shows a 'mass
exorcism
fair' where hundreds of people have flocked to rid themselves of 'possessed demons'.
Gurus and mystics have been peddling their wares at the event in a village in the Rohtas district of eastern India's Bihar.
Those claiming to have been possessed by evil spirits can be seen sitting on the ground, swaying their heads as
prayers
and incantations are read.
Superstition is rife in India and unscrupulous operators are quick to exploit the vulnerable.