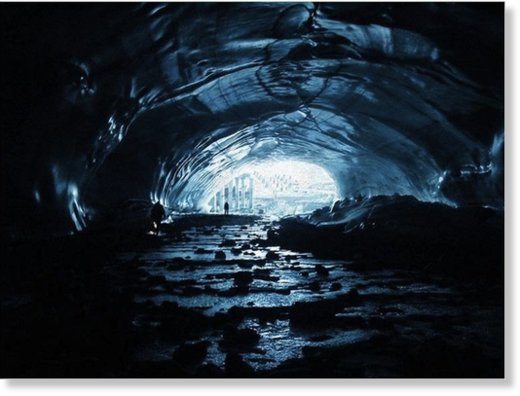 Comment: Like a number of articles on this or related subjects, some of the information provided is quite simply unverifiable - but interesting and useful to explore nonetheless. This piece (as the author seems to say himself a few times) leaves much to the reader in terms of questioning its veracity. By all means do question. And hopefully, at some point in the not-too-distant future, we'll see more information presented on this subject that verifies what's objectively true, from what isn't. Enjoy.


The great visionary
Edgar Cayce
once said, "The unseen forces are greater than the seen." That esoteric statement extends to the cosmology of our physical universe as well, since scientists believe it's comprised of
96% dark matter
and dark energy, leaving just 4% of the universe seeable. And among the earth's seven continents, no greater land mass has been more unseen, uninhabited and less known about than the mysterious frozen terrain that lies underneath the 2 mile deep polar ice shelf covering the Antarctic continent, a massive
5.4 million square mile
(14 square million kilometer) archipelago that's twice the size of Australia surrounding the south pole.
The story of Antarctica is the story of secrecy enshrouded in government nondisclosure and cover-up. Yet scientists from primarily the United States, Russia, United Kingdom and France, each largely working separately for decades, have guardedly unveiled layers of truth in small bits and pieces that reveal a mysterious, darkly hidden past. In fact up to
30 countries
operate research stations on the continent. Despite the
Antarctic Treaty
signed by a dozen original nations in December 1959 promoting cooperation for shared scientific research that prohibits a military presence other than for adjunctive scientific purposes, more than a half dozen countries squabble over
territorial claims
- the UK, Chile, Argentina, Australia, New Zealand, France and Norway. The US supposedly ceased its naval operations on the continent
in 1998
. But aside from US hegemon's
presence
, Russia's vested interest announced a year ago includes a
naval expedition
operating in Antarctica, its first in three decades, and seemingly a violation of the Antarctic Treaty. China also set up its first
air squadron
in 2016, ostensibly to support its four research bases. With increasing tensions between US and Eastern powers Russia and China, the geopolitics chessboard match on our southernmost continent appears to be gearing up like never before.