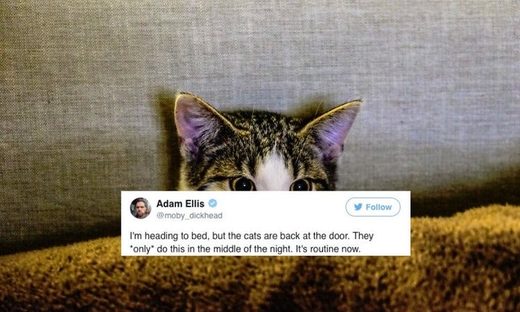 One of the key elements of
Adam Ellis' Dear David Twitter tale
is his cats. Throughout his ordeal, as he's attempt to figure out whether his apartment is actually haunted and whether the alleged ghost stalking him is trying to kill him, he's posted pictures and videos of his two cats doing weird things - prompting many to ask,
can pets see ghosts?
Is that why the cats keep gathering by the front door to Ellis' apartment at the same time every night? Are they responding to
Dear David's presence
? Or is it more easily explained than that?
The strange behavior of Ellis' cats showed up early in the story; they were part of the
very first thread Ellis tweeted
about the whole thing. To recap, he began by telling us that he had first had
a series of dreams
: One in which a boy with a misshapen head appeared on a rocking chair in his bedroom before starting to come after him threateningly; one in which a girl shared both Dear David's name and a few rules for how to communicate with him; and one in which Ellis asked Dear David some questions and accidentally broke one of the rules. Some time went by; Ellis was unable to find out anything about Dear David via the internet, and eventually he moved to the apartment above the one he had originally been living in.