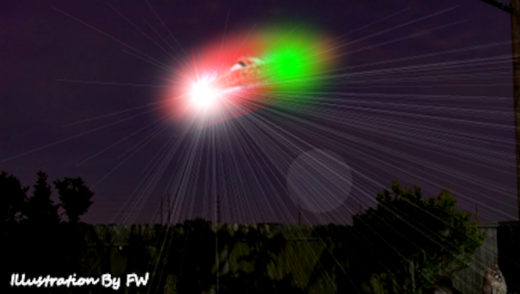 Strange, silent and rapidly-moving lights made an appearance in the summer night sky over the city, according to one family, which noted their claim in a national UFO database.
The anonymous report describes a "fast-moving red light, with flashing white and green lights," which the person making the report said stopped and hovered before quickly departing.
The description relates at about 9:30 p.m., in Woburn, on July 16, "while sitting in our yard having a cigarette, my wife and I observed a very bright red light, with white and green flashing lights on top, coming across the sky from the direction of Winchester, MA, at approximately the height one might expect from a helicopter, but at an extremely high rate of speed."
The writer added, "I remarked to her 'Wow, that's really moving,' , when it suddenly stopped and hovered for about 10 seconds, before proceeding to speed in the direction of Wilmington, MA, where it again stopped and hovered for a few seconds, before proceeding to return back in the direction I was standing."
The writer said the writer's wife went into their home and told their son, "who also observed the object move, stop, and hover again, before proceeding rapidly in the direction of Stoneham, MA, and out of sight. At no time was there any sound noted."
The report concludes, "The only thing it could have been was a drone, but the height and especially the extreme speed, makes that very unlikely in my opinion."