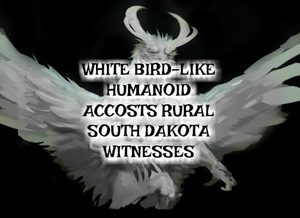 I recently received the following account:
This happened on June 9, 2014, to a friend and I in rural South Dakota. It was a clear night, kinda boring. We had been visiting friends here and there all evening...just going around visiting. Usually we'd be sipping a beer by the time evening came but for whatever reason that day we decided not to. We were just cruising and listening to music. It started getting late and everywhere we went people were drinking. Sad but just another night here. So after wasting gas all night, we decided to go check out some other people we knew.

We pulled up, by then it was around 2:00 in the morning. But everyone was hanging out outside in the front yard passing a bit of liquor around. We sat around and visited...I think either of us took just one shot before we decided to head out cause I was getting tired and wanted to go home. We said our 'laters' and jumped in the car. Now the place we were visiting was down a street almost the last house on a one-way street with houses on each side, until a few driveways before the stop sign where you'd enter the street. There were like two or three lots vacant on the right side...just open field with a row of trees farther back. Well here we are driving maybe 15 mph if not less trying to find a song to listen to. We're both not really paying attention to the road.