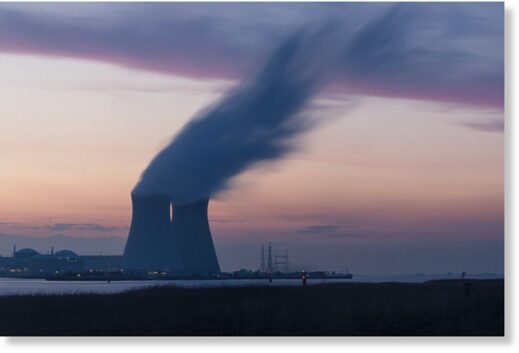 A U.S. Nuclear Regulatory Commission (NRC) spokesperson has told Liberation Times, that the agency takes potential threats from Unidentified Anomalous Phenomena (UAP) "seriously" and "continuously coordinates" on such concerns with federal intelligence and law enforcement partners.
The spokesperson also underlined the distinction of "uncrewed aerial systems" such as drones versus UAP,
which may have both prosaic and exotic explanations
.
When asked by Liberation Times how seriously the NRC treats reports of UAP over nuclear sites and facilities it oversees, the spokesperson responded:
"The Nuclear Regulatory Commission takes potential threats from any aircraft, uncrewed aerial systems (UAS) or unidentified anomalous phenomena (UAP) seriously and requires nuclear power plant operators and certain other licensees to report any suspicious activity in the airspace over their facilities.

"The agency continuously coordinates on these and other potential concerns with federal intelligence and law enforcement partners and can take immediate and appropriate action to address any security threats to our licensed facilities."
The spokesperson specifically highlighted to Liberation Times that licensees are required to report any suspicious activity in the airspace above their facilities - licensee meaning any entity granted a general license or specific license to construct or operate a nuclear facility.
The U.S. Nuclear Regulatory Commission (NRC) is an independent agency established by Congress in 1974, responsible for overseeing the safe use of radioactive materials for civilian purposes, including the regulation of nuclear power plants and other nuclear material applications through licensing, inspection, and enforcement.
There have been numerous reports of UAP observed in proximity to nuclear power plants. Sightings of mystery 'drones' have
occurred over nuclear power facilities across the U.S. in recent years
, including in Arizona, Colorado and Nebraska.
One such incident occurred at the Palo Verde Nuclear Generating Station in Arizona in September 2019. Several drones of unknown origin were observed flying 200 to 300 feet above the facility. Officials at Palo Verde, a privately operated facility, coordinated with the FAA, the FBI, the Department of Homeland Security, and the Maricopa County Sheriff's Office to investigate the incidents, providing insight into the federal intelligence and law enforcement partners with whom the NRC collaborates.
While many sightings may have plausible explanations, others remain less easily understood,
such as one incident involving the American Football Quarterback Aaron Rodgers
.
In 2005, at night, after being awakened by an alarm, Rodgers said he walked outside to witness a "tremendously large object moving through the sky" in New Jersey.
Rodgers said, "it was like a scene out of 'Independence Day,' when the ships are coming into the atmosphere, creating this kind of like explosion-type fire in the sky."
Then moments later, Rodgers added, "we heard the real recognizable sound of fighter jets ... that seemed to be chasing this object."
Upon doing his own research, Rodgers said he discovered the alarm was from a local nuclear power plant.
The recent annual UAP report, released by the Pentagon's All-domain Anomaly Resolution Office (AARO) was drafted in coordination with the NRC along with a multitude of other government agencies.
The National Defense Authorization Act (NDAA) for
Fiscal Year 2022
, specifically tasks the AARO to work with the NRC - it states the UAP Office must in its annual reports record incidents and descriptions of UAP or drones of unknown origin seen over NRC sites:
'In consultation with the Chairman of the Nuclear Regulatory Commission, the number of reported incidents, and descriptions thereof, of unidentified aerial phenomena or drones of unknown origin associated with nuclear power generating stations, nuclear fuel storage sites, or other sites or facilities regulated by the Nuclear Regulatory Commission.'
The NRC comments come weeks after the Department of Energy's National Nuclear Security Administration (NNSA)
released new details
about incidents involving the
unauthorized operation of unmanned aerial systems near U.S. nuclear sites and sightings of UAP
.
Asked why the NNSA chose to release the information, a spokesperson told Liberation Times that the content referenced its response to a Freedom of Information request. The spokesperson added:
"In some cases we post that content online in addition to written correspondence conducted with the person who requested the content."
When asked whether the NNSA was filtering down UAP reports to the AARO, the spokesperson commented:
"NNSA will follow all required procedures in reporting these phenomena, including any mandated reporting to the AARO."
Currently, it is difficult to assess which agencies or military branches are fully cooperating with the AARO. When asked by Liberation Times whether the AARO could provide a breakdown of reports from different military branches, Department of Defense spokesperson, Sue Gough, said:
"For operations security reasons, we cannot share the number of reports from each branch of service."
News that UAP incidents are apparently being taken seriously by the NRC may come as welcome news for UAP advocates calling for greater security measures.
Amid concerns about potential Chinese surveillance and mysterious advanced craft of unknown origin, it remains unclear if any countermeasures have been implemented to address unidentified objects that could pose a threat to nuclear security.