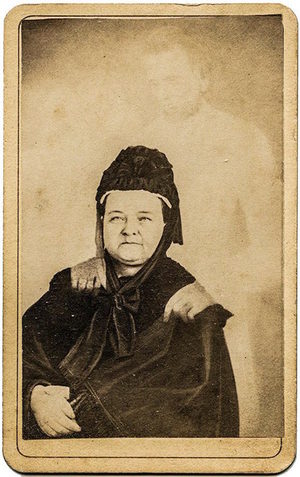 The first photographers were necromancers: their work fixed faces in time, sending a flood of memories into the chasm between the living and the dead. As a bulwark against grief and loss, a picture of a loved one was at once more visceral and more magical than anything that had existed before. Maybe it was inevitable, then, that nascent photographs, literally written in light, flickered between science and superstition, defying our sense of the tangible. Cameras gazed into our lives - wasn't it possible that they could see a little further, too?
Nothing captured the fervid confusion of the new medium better than spirit photographs, in which the ghosts of the departed seem to float cheek by jowl with those who mourn them. In his new book, "
The Apparitionists
," Peter Manseau offers a sensitive, insightful history of the original spirit photographer, William Mumler, whose rise and fall in the late nineteenth century put him at the center of a debate about religion, fraud, and, of course, the material reality of our immortal souls.
Mumler worked as an engraver in Boston, but he dabbled in photography on the side.
His first spirit photograph, developed in the early eighteen-sixties, came by surprise
: in a self-portrait he'd taken, he discovered "a girl made of light," as Manseau puts it, and identified it as the spectral figure of his deceased cousin. Regarding the photo as a curio, he began to pass it around, garnering astonishment and acclaim from the city's thriving spiritualist community. Mumler had stumbled - unwittingly, he later argued - into a realm of séances and mesmerism, and its adherents ascribed to him the same gifts they saw in clairvoyants and mediums. Here was a man who'd breached the black curtain between worlds. They blared his name in such papers as the
Banner of Light
and the
Herald of Progress
.