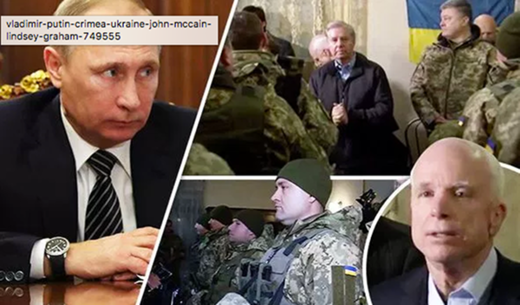 Senators John McCain and Lindsey Graham went to Kiev to bring support to the Ukrainian coup, promising that 2017 will be the year in which America will regulate accounts with Putin, who will be, in their terms, defeated on the fields of battle of Eastern Europe. "If Putin wins in Ukraine, then he can invade the rest of the world," said McCain. "Your struggle is our struggle," he added, pointing to the putschists. "Back home, we will push for measures to be taken on the issue. It is time for them to pay a heavy price."
Graham, first asserts that "the Russians will have to pay a high price: it's time that they stop attacking other countries," then poses as a moderate, saying that "our struggle is not against the Russian people, but against Putin."
McCain, for his part, reiterated: "I believe we will win. We will do everything we can to provide what is needed for victory. On the other hand, the successes we have achieved, we owe not to the equipment, but to your courage. The world is watching: we can not allow Vladimir Putin to succeed here, because if he succeeds here, he will succeed in other countries. "
McCain concluded by saying that for him Putin really manipulated the American elections, and that this too, should reinforce both the sanctions against Moscow, and the military aid to countries friendly to America, including Ukraine.
What to say?
The hatred of McCain and his companions is not rational, given that, if Putin really manipulated the American elections, making the Republicans win, McCain, being a Republican, for consistency should ask his party colleagues to resign, starting with Trump
.
The outbursts of McCain, who actually delegitimizes Trump and only criticizes Obama for being too good with Putin, demonstrate, once again, that the real clash in America is not between Democrats and Republicans, but between realists and neoconservatives. In the first set we find Trump and Kissinger, in the second, Soros, Clinton, and McCain.
Putin, in his own time, dismissed McCain with a few simple words.