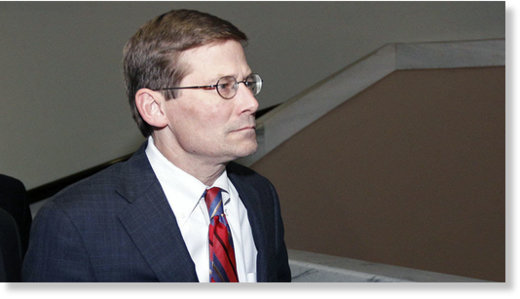 Former CIA deputy director Michael Morell, who supports Hillary Clinton and insists that Donald Trump is being manipulated by Russian President Vladimir Putin, said that Russians and Iranians in Syria should be killed covertly to "pay the price."
The ex-CIA chief, who worked with Clinton while she was secretary of state, told
CBS This Morning
co-host Charlie Rose that Iran and Russia should "pay a big price" in Syria - and by that he meant killing them.
"When we were in Iraq, the Iranians were giving weapons to the Shia militia who were killing American soldiers," Morell said. "The Iranians were making us pay a price. We need to make the Iranians pay a price in Syria, we need to make the Russians pay a price," he continued.
When asked if that meant killing Russians and Iranians, Morell fully agreed, qualifying the answer with "covertly."
"Tell the world about it, right?" he went on. "You don't stand up at the Pentagon and say 'we did this,' but you make sure they know it in Moscow and Tehran."
Referring to the US-backed rebels in Syria, Morell said he wanted Washington to support them in more aggressive actions, not only against Bashar Assad's government, but against Iranians and Russians.
Morrell then went on a diatribe about how the US should "scare" Assad, including going after his national guard and "bombing his offices in the middle of the night."
"I'm not advocating assassinating him, I'm advocating going after what he thinks is his power base and what he needs to survive. I want to put pressure on him, I want to put pressure on the Iranians, I want to put pressure on the Russians to come to that diplomatic settlement."
The former acting director of the CIA publicly endorsed Hillary Clinton last week through an opinion piece in the
New York Times
,
praising her qualifications as commander-in-chief
and calling her rival Donald Trump a threat to national security.
After he retired from the CIA in August 2013, Morrell took a job at Beacon Global Strategies, a Washington, DC consultancy founded by Clinton aides Philippe Reines and Andrew Shapiro. There he worked with Leon Panetta, another Clinton aide and his predecessor at the helm of the CIA, who also spoke in support of Clinton at the Democratic convention in Philadelphia last month.
Last year, Morrell
apologized
to "every American" and finally owned up to the "mistakes" made by the CIA in Iraq, where over 4,000 US soldiers and at least
250,000
Iraqi civilians have been killed since the 2003 US invasion.