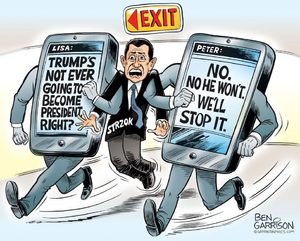 Strzok has left the building
What is truth anyway? The truth is the essence of something, its natural state, something as it really is. It is really a quest for love, because to truly love something we must know it for what it really is. Perhaps we can sense in an unconscious way that there is a deeper truth to everything and everyone, and we are led to search for the truth about it, so that we can truly love it for what it really is.
- Joe Quinn
Recent Comments
Stirring the pot. Stir, stir, stir. Are you bubbling yet?
---
Stuff like this will put more than a few idiots in danger in the future down here in the swamp. Seriously, if you see an alligator, calmly (trying...
---
A closed mind only sees what it wants to see.
---
This could get messy, as the Israelis will no doubt interfere with the Syrians as they liberate the area near the Golan Heights. Another tired...
---
Monoatomic Elements are said to be electrically inert