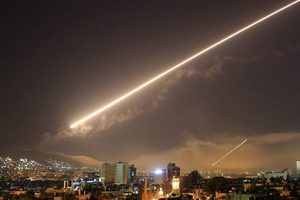 Syrian air defense systems protecting Damascus - the oldest continuously-inhabited city on Earth - from Western airstrikes, 14 April 2018
All truths are easy to understand once they are discovered; the point is to discover them.
- Galileo Galilei
Recent Comments
They should have those laws here. Of course we'd have to indict scores, maybe hundreds of prominent politicians and entertainers. Nah, never...
---
2025? How about 2022? Some time ago, Albert Pike, a 33rd degree Mason, laid out the plan for world takeover by the ruling elite. The year for...
---
Great find and once again, great discomfort for academia. I hope we'll have enough time to expose our true neolithic past with find like this and...
---
In meditation the plant realm acts as a counter-balance to the animal realm. Our planet is operating an annual tree deficit. Plants, I believe,...
---
Any country that provides a commodity that the US can also provide will be subject to sanctions ... that is US law If the Germans do not agree...