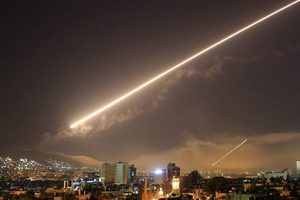 Syrian air defense systems protecting Damascus - the oldest continuously-inhabited city on Earth - from Western airstrikes, 14 April 2018
All truths are easy to understand once they are discovered; the point is to discover them.
- Galileo Galilei
Recent Comments
"Akira the Don, who makes what he calls 'JBP wave lo-fi hip-hop'. There you will find artful remixes of Peterson's lectures, fused with surprising...
---
The cover of classified intelligence, i.e, zero,...should never be accepted as reasons to attack anyone. Its wearing a bit thin, as is the western...
---
The EU seems to be unraveling somewhat. No doubt their answer to this perceived 'threat' will be to double down.
---
What is the average life span of these divers? Does this spleen-mediated ability put stress on the heart?
---
How much more of an economic hit will the EU tolerate before it finally grows weary enough of bending the knee to American imperialism? Bending...