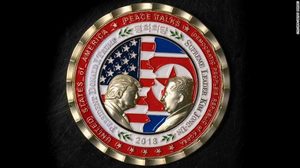 Coin flipping
A nation that continues year after year to spend more money on military defense than on programs of social uplift is approaching spiritual doom.
- Martin Luther King, Jr.
Recent Comments
THIS is the kind of buffoon the United States appointed as Ambassador to Russia? Why didn't they send a Charismatic Pentecostal as Ambassador to...
---
THIS is what it means to be a Jew in the 21st Century?
---
I apologize. I could not read beyond the first two paragraphs. All I have to say is this: Does ANYONE in Washington realize, or even care , what...
---
The dumbest actor in this drama is South Korea, which is like an abused wife with two black eyes and a row of missing teeth. Cannot make up its...
---
To all readers: Behold the power of propaganda. If you think the photo of the alleged veggie-burger, looking instead like an overcooked...