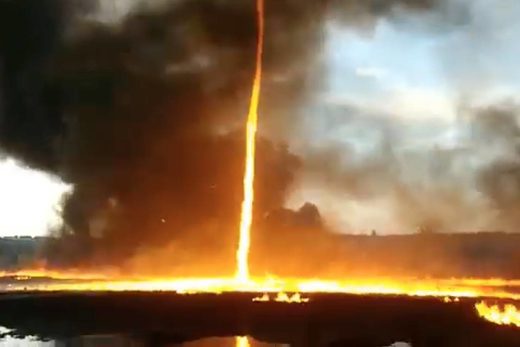 Firefighters in Derbyshire have captured on video a rare fire tornado, or firenado, towering 50ft above them while they tackled an industrial blaze near the town of Swadlincote.
The film shows a dazzling column of red-hot fire reaching high into the sky as black smoke billows up from a pool of flames at a plastic pallet factory, where the blaze broke out at about 1.20am on Tuesday morning.
As the camera tilts back to show the full height of the phenomenon, the whirling string of light appears to pulsate and bend as it is whipped by winds.
Leicestershire Fire and Rescue Service, which helped the Derbyshire and Staffordshire services tackle the blaze, shared the video
on Facebook
, saying: "Whilst we were firefighting at Occupation Lane we witnessed a firenado or a fire whirl.
"It's created as cool air enters the top of the hot air causing a swirl similar to how a tornado is formed."