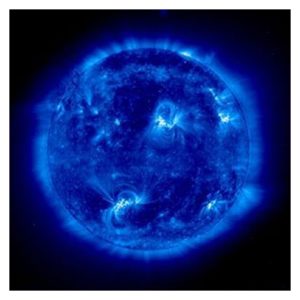 As discussed in a
number of previous posts
, Mars became captured in a geostationary orbit 36,000 km above Mt. Kailas, in the TransHimalayas, for 14.4 years and then was released into a planetary orbit for 15.6 years. This 30-year cycle was repeated one hundred times between 3687 and 687 BC, and observed by one hundred generations of mankind who incorporated observations of these events in ancient texts. In the Rig Veda the capture periods were called
kalpas
and '
days of Brahma
'. In Egyptian myth they were called '
inundations
' due to the tidal effect of Mars (
Horus on the Horizon
), which drew the Nile waters across eastern Egypt, increasing the fertility there.
During each
kalpa
, Mars exerted a continuous tidal effect on the Deccan Traps volcanism, drawing the subsurface asthenosphere rock upward producing an additional 20-meter thick layer, 'traps' meaning steps. Therefore, the Deccan Traps represent a geological clock covering approximately 3000 to 687 BC, herein dubbed the Vedic Period. It is impossible to drill through the many layers of the Deccan Traps. Instead, different provinces have been dated, where older sections of the traps are exposed.
This has proven difficult for several reasons. Most significantly, the
'
Trap' rocks do not give the ancient dates that geologists expected, because they are less than 6,000 years old
.
Geologists maintain that potassium-argon, (K-Ar), dating does not work because the isotope ratios of argon in the atmosphere have changed.
That is true, because the entire atmosphere of the Earth changed during the Vedic Period due to the influx of the entire Martian atmosphere.
To overcome this apparent obstacle, geologists have reverted to using the thin layers of material between the actual steps, called 'separates', assuming it is also of earthly origin. But these thin layers comprise material from Mars which fell from the atmosphere between
kalpas
. Although the (U-Pb) in zircons in the separates have a wide range of ages, those with the ages supporting the hypothetical Cenezoic period are chosen, thereby justifying the age of deepest layers of the Deccan Traps at 66 million years BP. The 'separate'layers are proof that there was significant time between each of the one hundred rock layers.