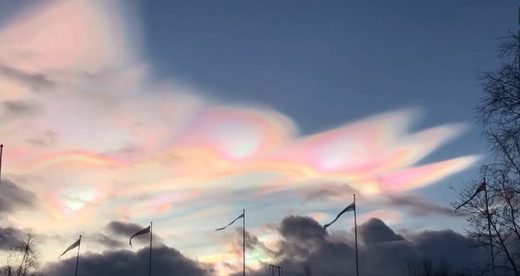 A spectacular outbreak of polar stratospheric clouds (PSCs) is underway around the Arctic Circle. "This is a once in a lifetime event," says Chad Blakley, who runs the
Lights over Lapland
aurora tour service in Abisko, Sweden. "No question,
this is the best that any of us have ever seen
." Tour guide Paige Ellis took this video showing the clouds' aurora-like colors on Dec. 29th:
"They were so intense that lots of the tourists on the ground thought they were looking at daytime auroras. I had to explain that they were actually clouds in the stratosphere," says Blakley.
Polar stratospheric clouds are newsworthy because normally the stratosphere
has no clouds at all
.
Home to the ozone layer, the stratosphere is arid and almost always transparent. Only when the temperature drops to a staggeringly cold -85C can sparse water molecules assemble themselves into icy stratospheric clouds. PSCs are far more rare than auroras.