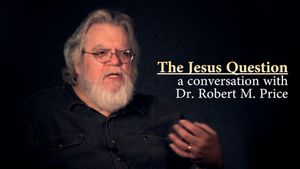 Most people are aware that there is no hard, historical evidence for the existence of the "Jesus Christ" of the bible. So "Jesus never existed", but is that the whole story? What does the real evidence suggest was really going on circa 2000 years ago in the modern-day Middle East and Roman Empire and, more importantly, who wrote the bible?
To answer this most important of questions, we interviewed American theologian, author and biblical scholar, Robert M Price.
Robert is a former Baptist minister who today teaches philosophy and religion at the Johnnie Colemon Theological Seminary. He is professor of biblical criticism at the Center for Inquiry Institute and the author of a number of books on theology and the historicity of Jesus, including
Deconstructing Jesus
,
Jesus is Dead
,
Inerrant the Wind: The Evangelical Crisis in Biblical Authority
,
The Case Against the Case for Christ
,
The Incredible Shrinking Son of Man
and
The Amazing Colossal Apostle: The Search for the Historical Paul
.
Robert runs a
regularly updated website
and hosts a regular webcast called '
The Bible Geek
' where he answers questions from his readers.
Regular hosts Joe and Niall were also joined this week by amateur bible critic and researcher Laura Knight-Jadczyk.
Running Time:
01:57:00
Download:
MP3