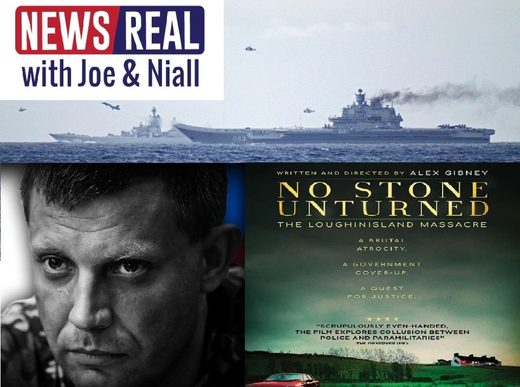 The shocking assassination Friday of Aleksandr Zakharchenko, leader of the self-proclaimed Donetsk People's Republic, may end the Minsk Agreements and reignite the Donbass insurgency against Kiev rule.
The elimination of a high-profile Russian ally in Ukraine was almost certainly done with one eye on the developing 'mother-of-all-stand-offs' between Russian-Syrian forces and terrorist-F.UK.US forces in and around Syria.
With the Russian government alerting the world to another imminent staged 'chemical attack' in Syria, just as Damascus is poised to retake Idlib province - temporary home to tens of thousands of terrorist-mercenaries gathered there for a 'last stand' - Zakharchenko's murder appears to be 'revenge' against Russia for - again - thwarting Western goals in the Levant.
Finally in this episode, Joe & Niall discuss the arrest of two Irish journalists involved in producing a documentary directed by Oscar-winning filmmaker Alex Gibney (
No Stone Unturned
, 2017), which laid bare the British state's role in manufacturing terrorism in Northern Ireland.
Running Time:
01:34:40
Download:
MP3