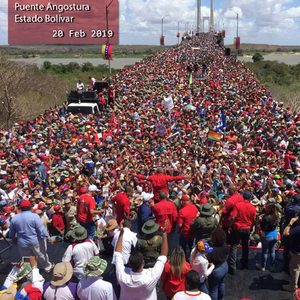 20 February 2019: Pro-Maduro demonstration on Angostura Bridge in Bolívar state, Venezuela
A man may die, nations may rise and fall, but an idea lives on.
- John F. Kennedy
Recent Comments
Aka "random guy" [Link] lol. Also from MoA: The Branson 'Live-Aid' Concert garnered 20,000 or less as opposed to the 200,000 claimed by WaPo. I...
---
Trump said MAGA, not MEGA.
---
On-Going coverage [Link] And then we ve got idiots like this [Link] RIP Little One
---
John Pilger is a hero (and I don't generally believe in 'heroes'), a great documentary filmmaker and a high-quality truthtelling reporter who is...
---
Inadvertantly? My ass and buttermilk! R.C.