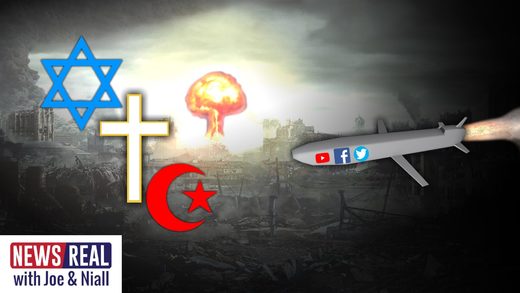 Post-9/11, the 'Global War on Terror' and the US-led wars in the Middle East produced foreseeable consequences, chief among which was the displacement of millions of people, many of whom relocated as far away as western Europe and north America. While this was going on, political movements sprang up in reaction to the terrorism and the mass immigration, with the target of that reaction being Islam and Muslims.
The result, in just a short period of time, has been a 'perfect storm' of social chaos, so perfect that it's as if events 'conspired' to bring it about. But if events conspired, then surely conspirators facilitated that?
Speaking of conspiracies... was the recent bout of censorship of social media pundits, mostly on the 'right' but also one or two on the 'left', a result of simple breaching of terms of service, or is something else afoot?
Join Joe & Niall on this week's
NewsReal
for a discussion on the who, how and why of this manufactured 'clash of civilizations'.
Running Time:
01:20:29
Download:
MP3