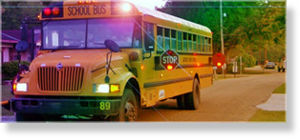 Seven central Florida teenagers were arrested after authorities said they punched and kicked a 13-year-old until she was unconscious while on a school bus.
The victim told authorities that Friday was her first time riding the bus and no one would let her sit down. About 75 children were riding the bus bound for a middle school in Ocala, a rural city north of Orlando. The victim said someone threw a shoe at her and she threw one back, according to an arrest report.
One girl allegedly asked students if they wanted to hit the victim, then instructed the teens to form a circle and began hitting and kicking the victim. Several witnesses said they saw the girl fall to the floor and "appear to have a seizure and pass out," according to the arrest report.
The victim, who is not being identified, was taken to the hospital and diagnosed with a concussion, severe bruising on her head and muscle spasms.
Seven teens, ranging in age from 12 to 15, were charged with battery and disorderly conduct. The Associated Press is not identifying the suspects because they are minors.