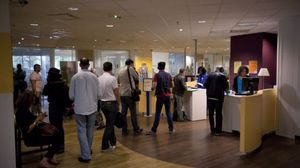 The number of registered jobseekers in France rose to a record 3.3 million in December, the French Labor Ministry says.
The ministry said on Monday that the number of jobless people rose by 10,200 despite President Francois Hollande's electoral pledge to control the trend by the end of 2013.
The figures are considered to be a major challenge for Hollande, who had vowed to curb the unemployment rate from more than 10 percent to a single-digit figure by December.
Hollande has struggled to combat unemployment in the eurozone's second-biggest economy. However,
if part-time employees are added, the number of unemployed in December will be 4.89 million, which is another record
.
French Prime Minister Jean-Marc Ayrault has also emphasized on the necessity of moving "further, faster and more strongly" to fight joblessness.
On January 14, Hollande pledged to slash 50 billion euros ($68 billion) in public spending and abolish 30 billion euros ($41 billion) worth of payroll taxes by 2017, in a bid to fix the economy.
However, the cuts run contrary to the anti-austerity platform that he rode to the presidency in 2012.
French economy suffered two recessions in recent years, while growth was calculated at 0.2 percent in 2013.
A year and a half into his term, Hollande's popularity ratings have plummeted, largely due to his failure to lower the unemployment rate and manage the flagging economy.
A recent poll conducted by France's OpinionWay showed that some
82 percent of the French are not satisfied with his handling of the economic and social issues
.