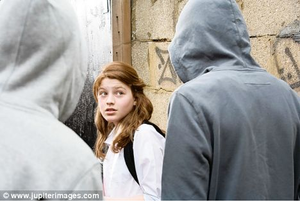 It can be a malicious rumor whispered in the hallway, a lewd photo arriving by cell phone, hands groping where they shouldn't. Added up, it's an epidemic - student-on-student sexual harassment that is pervasive in America's middle schools and high schools.
During the 2010-11 school year,
48 percent of students in grades 7-12 experienced some form of sexual harassment
in person or electronically via texting, email and social media, according to a major national survey being released Monday by the American Association of University Women.
The harassers often thought they were being funny, but the consequences for their targets can be wrenching, according to the survey. Nearly a third of the victims said the harassment made them feel sick to their stomach, affected their study habits or fueled reluctance to go to school at all.
"It's reached a level where it's almost a normal part of the school day,"
said one of the report's co-authors, AAUW director of research Catherine Hill. "It's somewhat of a vicious cycle. The kids who are harassers often have been harassed themselves."