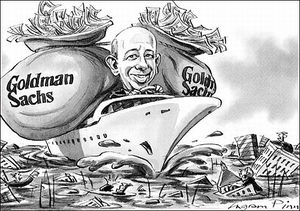 Goldman Sachs Group Inc faces lawsuits over $15.8 billion worth of mortgage securities, the bank said in a regulatory filing on Wednesday, a more than 30-fold increase from the amount disclosed three months earlier.
The aggregate figure, which is up from $485 million previously, does not represent how much money Goldman management estimates it may lose on the litigation. Goldman lifted that estimate of "reasonably possible" losses to $2.6 billion from $2 billion.
The bigger dollar figures come as investors in mortgage-backed bond deals have raced to take legal action or enter settlement negotiations before statutes of limitations expire, and as investors continue to worry about banks' exposure to big lawsuits.
Goldman also added three European financial firms to a list of parties that have threatened to sue it, a more fulsome disclosure than some of its peers.
Goldman said HSH Nordbank, Norges Bank Investment Management and IKB Deutsche Industriebank AG have threatened to assert claims related to mortgage offerings, in addition to insurance giant American International Group Inc and Manulife Financial Corp's John Hancock unit, whose legal threats it disclosed last quarter.