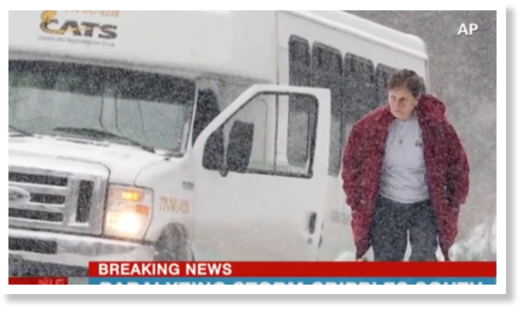 There was no morning commute Wednesday morning in Atlanta because Tuesday afternoon's commute was still stuck on the highways.
According to CBS Atlanta
, thousands of vehicles littered surface streets and highways after a fast moving snowstorm and cold front froze the city's bridges and overpasses at midday. Unprepared commuters were left
sleeping in CVS stores, Home Depots and offices
and kids were
stranded in school buses
on the highway for 10 hours or more. On Wednesday morning, parts of Atlanta
looked from the air
like a scene from the AMC TV series "The Walking Dead."
On Tuesday night, Georgia Gov. Nathan Deal (R)
declared a state of emergency
in all 159 counties affected by the storm. The National Guard
arrived on the scene Wednesday morning
to check stranded vehicles and deliver aid to people who were stranded in their cars overnight without food or water.
The snowfall, which meteorologists had been predicting since Sunday, came on earlier in the day and heavier than expected. Around 1:00 p.m. on Tuesday, school closures began and businesses began to shut down just as the snow started to fly.
Temperatures across the region plunged as the line of snow blanketed the state and within an hour, bridges and overpasses began to freeze. Some motorists who were sitting in traffic on the bridges found themselves
stuck in place
as their tires froze to the sheet of rapidly forming ice.
By evening, all of the city's major highways were gridlocked and social media began to fill with
cries for help
from the stranded.
"I have a friend who's truck has been hit by 6 cars. She has two kids in the car and trying to get to 2 more at daycare. She's by riverside dr by the Waffle House and publix. 911 is busy. Any suggestions???" tweeted one Atlantan.
"My sister is on I-285 near Exit 22 Northside Dr/Powers Ferry Rd. She is stranded and has a 9 month old with her. Is there anyone near that can provide assistance? There is a gas station ahead but she is unable to reach it with her baby," wrote one user on
a Facebook page called SnowedOutAtlanta
.
Another wrote, "Trying to get help to a Cobb County Special Ed bus driver and her 3 students...they have been on the road for hours with no food and have to go to the restroom. Theses are special needs kids and an older woman."
"My husband is near exit 244 in downtown Atlanta. He is almost out of gas. Can anyone help. He has been on the road 10 hours," said one notice.
The messages were heartbreaking at times in their desperation.
"Starting a new post, my dad is still stranded off Camp Creek Pkwy and Fulton Industrial Blvd, he is an emergency as he had a massive stroke 3 years ago and is on mega doses of meds to prevent another one, he is without his meds and has been stranded for about 9 hours, no food, drink, and almost out of gas, we've called 911 so many times I've lost count, he cannot get out on foot as he's tried and fell on the ice, its too slick, 911 keeps saying they are sending a cop car for him but nobody has showed in 2 hours, can anyone help?"
Some described the scene on Wednesday morning as a
"frozen hellscape,"
with jackknifed trucks blocking multiple lanes of some highways and hundreds of other accidents littering the landscape. An untold number of people are still stranded, including several hundred schoolchildren who still haven't gotten home nearly 24 hours after the first flurries fell.
Temperatures in the area are currently hovering in the low 20s, impeding the rescue and recovery effort. While the thermometer is expected to reach the mid-30s Wednesday afternoon, it may take several days to clear away the mess on the city's streets highways.
Watch videos about this story, embedded below: