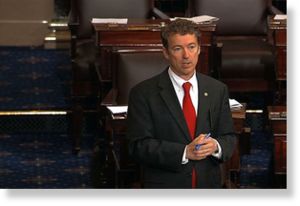 Sen. Rand Paul (R-Ky.) will file his class-action lawsuit against the National Security Agency "hopefully within the next week," he said.
The vocal critic of the NSA told the State of the Net Conference on Tuesday that the complaint has already been written and predicted that the challenge would likely reach to the Supreme Court.
Paul has been working for months on the lawsuit against the NSA over its surveillance of Americans' phone and Internet records, which he plans to file as a private citizen. On Tuesday, he asked for the public to back the effort.
"I would like people on the Internet to go out and really support our lawsuit," he said on Tuesday.
Paul said that the lawsuit could replicate the success of the Internet campaign against the Stop Online Piracy Act (SOPA) and Protect IP Act (PIPA). Online outcries against those pieces of legislation effectively killed them in Congress in 2012.
"Ten million people signed up for a lawsuit sends a message," Paul said.
He also urged the tech company leaders and advocates at the annual policy conference in Washington to hop onboard the class-action lawsuit. That would be a sign they oppose the government's surveillance efforts and a chance to "show your customers in Europe and the world that you're going to stand up to what is unconstitutional," he said.
Tech company executives have said that revelations about the NSA's collection of data have caused people around the world to grow wary of using American technology.
Paul first publicly considered bringing a class-action lawsuit against the NSA in June. Since then,
federal judges have issued split decisions on the constitutionality of the spy agency's surveillance programs, a federal civil liberties board has declared it illegal
, and President Obama has laid out a number of reforms to rein in the efforts.
On Monday, the Justice Department
announced a deal
with five tech companies allowing businesses to disclose some previously secret details about government officials' requests for information.
Paul said that transparency measure was only a drop in the bucket.
"That's good, but that shouldn't be the end of it," he said.
"It is about whether they should be collecting the data at all. I don't think they should be collecting the data indiscriminately."