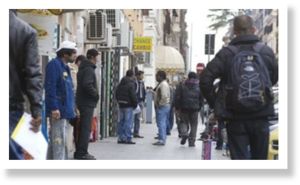 Official figures have shown that an increased number of Italians left their recession-hit country in 2012 to seek employment in other European countries.
Figures by the National Institute of Statistics (ISTAT) revealed that
the number of the Italians who left the country in 2012 rose to 68,000 people in 2012 from 50,000 in 2011
, registering a 36-percent rise.
According to ISTAT, a quarter of those ages above 24 emigrating from Italy had university degrees and mostly headed for Germany, Switzerland, the United Kingdom and France.
Italy, on the other hand, has become less appealing a destination for foreigners, with the number of immigrants arriving in the country plunging by close to 10 percent to 321,000 in 2012 compared to the last year.
Immigration dropped from Moldavia, Ukraine, Peru, and Ecuador while there was a rise in people fleeing from conflict-hit zones, such as Nigeria, Pakistan, and Mali.
ISTAT recently released a separate report showing that
Italy's unemployment rate hit a 37-year record high of 12.7 percent in November
.
According to reports,
the number of the Italians without work now stands at 3.254 million
, an increase of 351,000 from November 2012.
The Bank of Italy reported earlier last week that half of Italian households live on less than 2,000 euros (2,700 dollars) per month.
Over the past decade, Italy has been the slowest-growing economy in the eurozone as tough austerity measures, spending cuts, and pension changes have stirred serious concerns for many people in the country.
Italians have been staging protests against high unemployment, economic adversity and hardship over a series of government-imposed austerity packages in recent years.