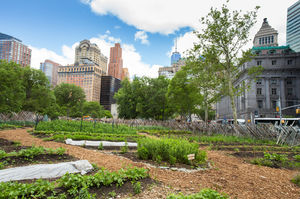 The aftermath of Christmas is a good time to think about where consumer-capitalism is getting us. The sad fact is that, with these values, our society can never be ecologically sustainable or just.
Accelerating global problems cannot be solved in a society obsessed with production and consumption, affluent living standards, market forces, the profit motive and economic growth.
The only way out is via a huge and radical transition to
The Simpler Way
.
An exaggeration? Only if you fail to grasp the magnitude of the overshoot. Consider, for instance, the well-known "
footprint
" numbers. It takes eight hectares of productive land to provide water, energy, living space and food for one person in Australia.
If the 9 billion people of the future were to live as Australians do now, we would need about 72 billion hectares of productive land - about nine times the total on Earth. Even now, footprint analyses indicate that the world is consuming resources 1.5 times faster than we can sustain.
It gets worse.
Our affluence, comfort and security could not be possible if we few who live in rich countries were not hogging most of resources. The per capita consumption of the
top 10 countries for iron ore use
is more than 80 times that of all the rest. If the global economy were not so grossly unjust we would have to get by with a tiny fraction of what we use now.