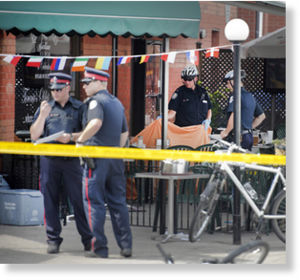 Canada, Toronto - Police are looking for a suspect after a fatal daylight shooting outside a gelato shop in Toronto's Little Italy neighbourhood, where dozens of soccer fans had gathered to watch a European Championship game.
Toronto EMS confirmed one person was pronounced dead at the scene and another was sent to hospital with non-life-threatening injuries.
Toronto police Const. Wendy Drummond said reports of gunshots came in at about 3:30 p.m. Monday at the Sicilian Sidewalk Cafe near College St. and Ossington Ave.
Police are looking for a suspect described as six feet tall with blond hair. He was wearing a white hard hat, a safety vest and a white filter mask and was seen running north from the scene.
The shots rang out as soccer fans had gathered to watch Italy play Ireland in a game that sent the Italian team into the Euro 2012 quarterfinals. Drummond urged the crowds of soccer fans spilling out of the area cafes following the game to respect the crime scene.