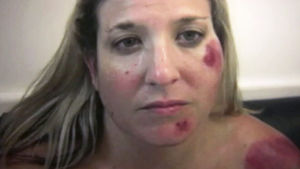 Several Los Angeles police officers are under investigation after being caught on camera
beating and repeatedly body-slamming a woman during what was a routine traffic stop
in Tujunga.
Surveillance footage of the incident was first obtained by local NBC LA.
It shows the officers pushing her into a squad car, then giving congratulatory fist bumps to each other, celebrating their abuse of the woman.
The woman, Michelle Jordan, is a 34-year-old mother and registered nurse who is from Sunland, California. She went public Tuesday, opening up about her experience. Now she is filing a personal complaint against the officers, according to local KTLA.
Sources from within LAPD tell the
Los Angeles Times
that
Jordan was pulled over at a Del Taco restaurant
because officers saw her talking on a cellphone while driving.
Officials then claim that Jordan defied the officers' orders to remain in her car and began challenging them, according to the
Times
.
The officers then arrested her, slamming her body to the ground twice. Jordan's lawyer, Arthur Corona, described her
a "
defenseless woman in a sundress
" and asks why officers felt the need to use such aggressive means against his client.
Sy Nafiz, another attorneys for Jordan, said "If anyone on the street attacked an innocent woman, they would be in jail. We expect the LAPD officers to be held to the same standard."
Watch the video below