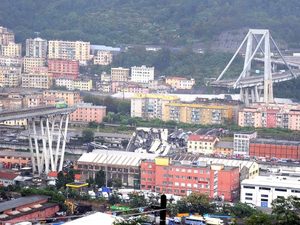 14 August 2018: Morandi Bridge in Genoa, Italy, collapses during a storm, killing 35 people
If the doors of perception were cleansed, everything would appear to man as it is, Infinite. For man has closed himself up, till he sees all things thro' narrow chinks of his cavern.

'The Marriage of Heaven and Hell'
- William Blake
Recent Comments
Absolutely shameful. And known about for decades. Is this the last? Its been saved back for years; finally justice. Released at just the time that...
---
There will be many surprise unforeseen "problems" after the big one hits So Cal. I would not want to be in that area with it's concentration of...
---
But you can't compare the USA actions with the Russian actions.... as the USA and its allies in NATO, Israel, Jordan, Saudi and formerly Turkey in...
---
Are you serious? Do you actually believe Saudi Arabia is capable of any civil and modern -- and I mean twenty-first century diatribe. These inbred...
---
This is classic: THREE BILLBOARDS OUTSIDE EBBING MISSOURI: Mildred vs Father Montgomery [Link]