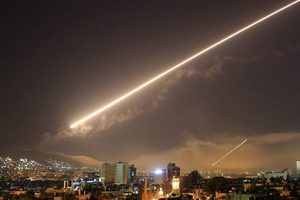 Syrian air defense systems protecting Damascus - the oldest continuously-inhabited city on Earth - from Western airstrikes, 14 April 2018
All truths are easy to understand once they are discovered; the point is to discover them.
- Galileo Galilei
Recent Comments
Interesting article Michael Peck, thanks for the history lesson but, "Putin's macho nationalism"? We should all be so lucky to have leadership...
---
Great article, Andres. Sarah Abdallah and Syrian Girl are doing good work for the mainstream to have taken notice and put out hit pieces on them.
---
Ther always China as a supplier. How can U.S. foreign policy wonks miss the fact that their 'sanctions' only serve to strengthen the economies...
---
This is so much BS. First, that agency is obviously a great place for a wanna be power mad murderer should find a job. But there are legitimate...
---
I hope its Judge Judy they have to stand in front of when the case is presented...........LMAO.............."Look at me Ms Clinton........do I...