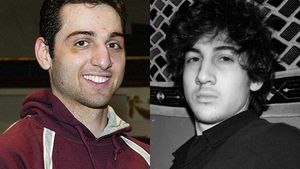 Suspected Boston Marathon bomber Tamerlan Tsarnaev heard voices inside his head and had an alter-ego, a report published in
The Boston Globe
claimed yesterday.
As part of a five-month investigation
, the
Globe
spoke to a number of sources close to Tsarnaev. Donald Larking, 67, who attended the same Boston mosque as the suspected bomber, said
Tsarnaev believed the voices were part of a "majestic mind control", which was "a way of breaking down a person and creating an alternative personality with which they must coexist."
Larking also told the
Globe
that Tsarnaev was "torn" between himself and an alter-ego.
"You can give a signal, a phrase or a gesture, and bring out the alternate personality and make them do things,"
he said;
"Tamerlan thought someone might have done that to him."
According to the report, the voices "came to [Tsarnaev] at unexpected times, an internal rambling that he alone could hear. Alarmed, he confided to his mother that the voice 'felt like two people inside of me.'