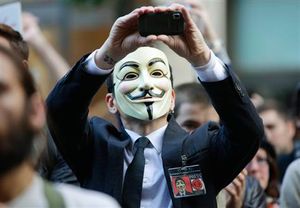 New York - Look at a photo or news clip from around the world of Occupy protesters and you'll likely spot a handful of people wearing masks of a cartoon-like man with a pointy beard, closed-mouth smile and mysterious eyes.
The mask is a stylized version of Guy Fawkes, an Englishman who tried to bomb the British Parliament on Nov. 5, 1605.
"They're very meaningful masks," said Alexandra Ricciardelli, who was rolling cigarettes on a table outside her tent in New York's Zuccotti Park two days before the anniversary of Fawkes' failed bombing attempt.
"It's not about bombing anything; it's about being anonymous - and peaceful."
To the 20-year-old from Keyport, N.J., the Fawkes mask "is about being against The Man - the power that keeps you down."
But history books didn't lead to the mask's popularity: A nearly 30-year-old graphic novel and a five-year-old movie did.