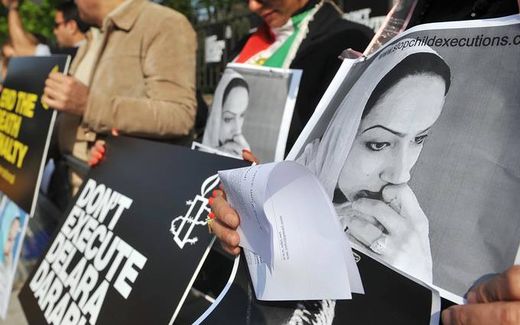 The execution of women holds a special revulsion for Westerners, especially - let us be honest about this - when the women are decapitated, hanged or shot in the Muslim world. Our revulsion at the act of killing a woman is thus neatly dovetailed into our foundational conviction that Islam treats women not only as second-class citizens, as chattel, property, prizes of "honour" to be slaughtered if that "dignity" is even rumoured to be besmirched, or as sacrificial victims of their menfolk's crimes. Often male sadism is involved.
What do the masterful male executioners of Saudi Arabia think of when they hack off the head of a woman in a public marketplace? What of the Iranian state executioner who heard 23-year-old Delara Darabi screaming to her mother for help down her mobile phone: "Oh mother, I can see the hangman's noose in front of me. They are going to execute me. Please save me." And who, as the girl was strung up, sneered down the same phone to the mother that nothing could save her daughter now?
Delara Darabi's "crime" was to have confessed to killing her father's cousin, apparently to save the life of her boyfriend, who was said to have committed the crime and who would most certainly have hanged for it. But her family had already obtained a two-month stay of execution. She was an accomplished artist, an angel to her fellow prisoners. When I questioned the then President Mahmoud Ahmadinejad about her execution, he replied - pitifully - that he was against capital punishment but that the Iranian judiciary was "independent" of the government. "I do not want to kill even an ant," he told me
.
Now the Iraqi authorities, executing male prisoners by the dozen - for "terrorism", of course - have taken to torturing, raping and occasionally executing some of the thousands of women illegally detained in their jails. Human Rights Watch - may its name be praised - has just revealed how a female prisoner entered her meeting with HRW's delegate on crutches. She had, she said, endured nine days of beatings and electric shocks that had left her permanently disabled. Her split nose, scars on her back and burns on her breast were consistent, the organisation said, with the abuse she had alleged. Then came - quite literally - the "killer" line in their official report: "She was executed in September 2013, seven months after Human Rights Watch interviewed her, despite lower court rulings that dismissed charges against her..."