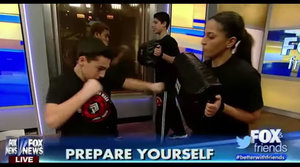 Fox News has defied reason and official federal guidelines to tell children they should confront a gunman in an active shooter situation.
Fox and Friends, hosted by Elisabeth Hasselbeck, included a segment on Tuesday that showed children how they could stop a gunman.
"In an active shooter situation, five seconds can mean the difference between life and death, but there are some things that you can do, and your children can do, to make a difference," Hasselbeck began the segment by saying.
Two Krav Maga self-defense instructors and three of their students - children - joined her for the demonstration.
They showed how a gunman could be disarmed with an attack from behind, but didn't explain that this should be used as a last resort.
Additionally, it was never pointed out that people should prioritize evacuation and hiding as preferable options.