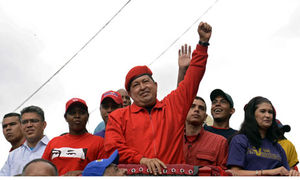 Venezuelan president retains power after 14 years in office, recording 54.5% of the vote against rival Henrique Capriles
Venezuela
's
Hugo Chávez
has once again defied his doubters by winning a new term of office in this Sunday's presidential election after what had been billed as the closest race of his political life.
To the euphoria of supporters in and around his campaign headquarters, the National Electoral Council announced the president had secured 54.4% of the votes, while his rival Capriles was behind with 44.9%. Some votes were still to be counted, but the council said the result was not in doubt.
Chávez tweeted, "Thank you, my God. Thanks to everyone. Thanks my beloved people!!! Viva Venezuela!!!! Viva Bolivar!!!!!"
As the result was announced, his supporters burst into cheers and songs of "Viva Le Patria" and "Ooh Aah, Chávez won't go."