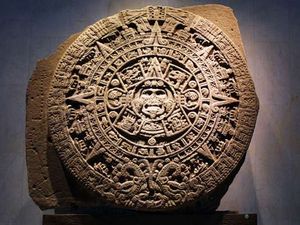 Our world is fascinated by prophecies of doom. Every day the media carry reports of predictions that the next year, decade, century or millennium will bring untold disasters. From a reading of current news headlines, this is difficult to argue against.
And now, we are bombarded by predictions of a disaster associated with what many say is the end of the Maya calendar. But did the Maya actually predict that the world as we know it will be destroyed by some unknown cataclysm on Dec. 21, 2012?
When the Maya abandoned their great cities in southern Mexico, Guatemala, Belize, Honduras, and El Salvador, they left behind large stone monuments with hieroglyphic writing. These inscriptions were very difficult to decipher as the writing system had not been used since the Spanish conquest when all, but four, of the books written by the Maya were burned. However, based on the four remaining books, early scholars were able to identify some of the gods and goddesses, the numerical system, and most importantly, parts of the calendar. Therefore, while they could not decipher the events recorded on the stone monuments, scholars could read the dates on which these events occurred.