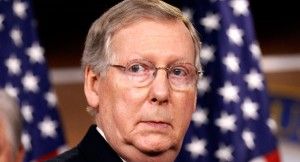 Senate Minority Leader Mitch McConnell (R-KY) is demanding that government spending cuts be made to pay for an extension to the federal unemployment insurance program, which expires on Dec. 31, 2012, reports the Associated Press.
Without the extension, about two million people will lose their unemployment insurance. On top of that, another million will see their benefits run out after January 2013.
However, Sen. McConnell has not required the Bush tax cuts, which benefit the very wealthy, to be offset by any government spending cuts.