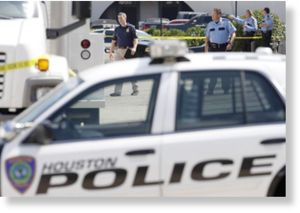 Radar, surveillance and weapons technology was reportedly sent through a business in a Houston strip mall.
Houston, Texas - Eleven alleged members of a clandestine procurement network have been indicted in connection with what prosecutors say was a $50-million conspiracy designed "to steal American technologies for the Russian government."
The grand jury indictment was unsealed Wednesday in federal court in Brooklyn, N.Y., but many of the defendants were arrested in Texas. One, Alexander Posobilov, appeared before a U.S. magistrate in Houston as prosecutors began seeking defendants' transfers to Brooklyn for trial.
Federal prosecutors said the ringleader is Alexander Fishenko, 46, the owner of U.S. and Russian companies. He immigrated to this country in 1994 and became a U.S. citizen nine years later. He is accused of acting as an unregistered agent "on behalf of the Russian government" to oversee shipments to Russia of radar and surveillance systems, weapons guidance systems and detonation triggers.
"These microelectronics had applications in a wide range of military systems, including radar and surveillance systems, weapons targeting systems and detonation triggers," the indictment says. Prosecutors say the equipment wound up with Russia's domestic intelligence agency, the Federal Security Service.
Much of the equipment is unavailable in Russia, and it is illegal to ship it out of this country. The crime can draw more than 20 years in prison.