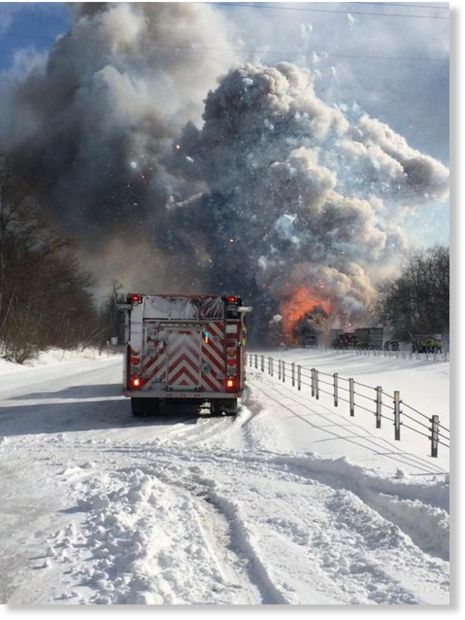 A crash involving 100 vehicles this morning on I-94 between Battle Creek and Galesburg killed one person, injured 16 and closed the freeway, drawing an areawide response from police, fire, rescue and community resources.
Some vehicles were burning in the smashup west of Exit 92, including a truck that carried fireworks. Shortly before noon, those fireworks caught fire, causing an extended display of aerial explosions.
Michigan State Police confirmed one fatality in the crash. Area hospitals reported treating 16 patients; one remained in serious condition about 1 p.m.
I-94 is closed in both directions from Exit 88 east of Galesburg to Exit 92 west of Battle Creek, the Michigan Department of Transportation said.
Only a few vehicles were involved in what Kalamazoo County Sheriff Richard C. Fuller said was the first crash at the scene about halfway between Battle Creek and Galesburg. That occurred in the eastbound lanes. Quickly, vehicles began to pile up in the westbound lanes of the freeway, slamming one after another into vehicles ahead and the median barrier. Crashed vehicles stretched for hundreds of yards in the westbound lanes.
Battle Creek police and fire crews joined the response to the crash, city officials said. And two Battle Creek Transit buses were dispatched to the scene to carry uninjured crash victims from the scene, where it was 12 degrees late this morning, to a Galesburg-Augusta school serving as a warming shelter.