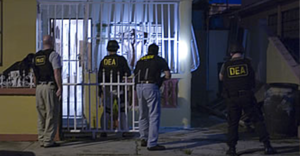 Only the state can smash down someone's door in the middle of the night looking for an arbitrary substance, shoot an innocent person, say it was an accident, and enjoy complete impunity.
Manchester, New Hampshire - A DEA agent who shot an innocent grandmother during a botched raid on her home will not face any charges.
New Hampshire Attorney General Joseph Foster announced last week that the shooting was accidental, therefore no charges will be filed against the agent involved.
The search warrant was served as part of a
series of 13 raids
to investigate several people allegedly selling prescription painkillers without government authorization.
Lillian Alonzo, 49, was shot through the arm with the bullet lodging in her torso in her Beech St. apartment on Aug. 27.
She survived the wounds, however the bullet remains lodged in her ribs and she has limited function of her arm.