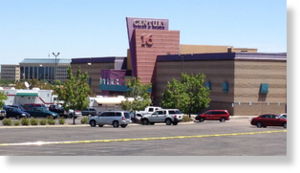 Denver - Three Colorado moviegoers who were hurt when a gunman opened fire in a crowded theater in July sued the owners of the theater, Cinemark USA, on Friday accusing it of failing to provide adequate security, their lawyers said.
The action marks the first known civil lawsuits filed over the July 20 shooting at a suburban Denver screening of the Batman movie
The Dark Knight Rises
that killed 12 people and wounded 58 others.
James Holmes, a former neuroscience graduate student at the University of Colorado, has been charged with murder and attempted murder in the case.
"Readily available security procedures, security equipment and security personnel would likely have prevented or deterred the gunman from accomplishing his planned assault on the theater's patrons," the law firm of Keating, Wagner, Polidori and Free said in a statement.
Representatives of Cinemark could not immediately be reached for comment on the suits.