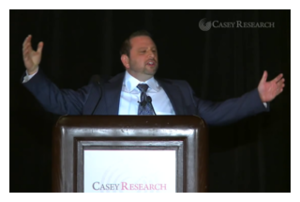 Constitutional and civil rights lawyer Marc Victor answered the question "Is America a police state?" at the recent Casey Research conference in San Antonio.
Frequently in the news while defending clients against police corruption and government abuse, Victor cut right to the chase. "Let's get this straight," he said.
"We're a police state. There is just no question that we're a police state."
Victor made the case that the written constitution has been easily bypassed and ignored in a number of ways, something he knows first hand after being
kicked off the bench as a judge
in Arizona for publicly announcing that he believes that the War on Drugs is unconstitutional.
"The only thing that matters, if you're interested in a free society," is the question, "Do you have a significant percentage of the people with whom you live that have in their hearts and minds a desire for freedom?" according to Victor.
"Today, unfortunately, we have a huge, significant amount of people who are just simply for a cradle-to-grave welfare state. That's what they like. They're for big government. They don't call it tyranny, but I would call it tyranny."