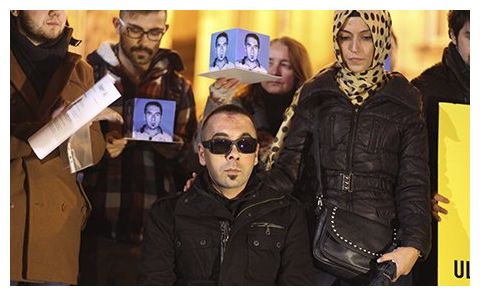 It was a Monday night in early June. Protesters will remember it as the night they celebrated the occupation of Istanbul's central Taksim Square and the adjacent Gezi Park after a weekend of clashes with the police in what was arguably the largest wave of protests in recent Turkish history.
But Hakan Yaman, neither a protester nor a political activist, remembers it as the night Turkish policemen tortured him on the street, gouging out his eye and left him for dead on a smouldering fire. Now he is fighting for justice.
Yaman, 38 - a minibus driver hurrying home from work - was trying to avoid the demonstrations when he ended up in the wrong place at the wrong time. "I walked fast to get home. The street was empty at that moment. Only one [water cannon] was there, waiting."
The jet of water hit him without warning, followed by a teargas canister to his stomach, from very close range. "I doubled over, I could not breathe," Yaman remembers. "Then around five policemen were coming towards me, but I was unable to move."
The police officers started to beat and repeatedly hit him on his head and face and he fell to the floor.
"They continued hitting me very hard, with their batons, with their fists and I am not sure what else. Then one of them gouged my eye out with something sharp. It just burst and started bleeding."