Metropolitan Police confirm taser was used in central London at 11:50am
Photos show man holding knife to his throat during Changing of the Guard
Queen and Prince Philip were at Sandringham Estate in Norfolk at the time
Man arrested on suspicion of affray and has been taken to a police station
Holding a blade to his own throat, this was the moment a knifeman brought chaos to the Changing of the Guard ceremony at Buckingham Palace yesterday.
The middle-aged man walked through crowds of tourists clutching two large kitchen knives before police surrounded him and used a Taser stun gun to disarm him.
As a policeman shouted a warning call of 'Taser, Taser, Taser' to his colleagues, the knifeman lunged forward, brandishing a six-inch blade in a series of swipes, before falling to the floor as he was stunned by the electrical charge.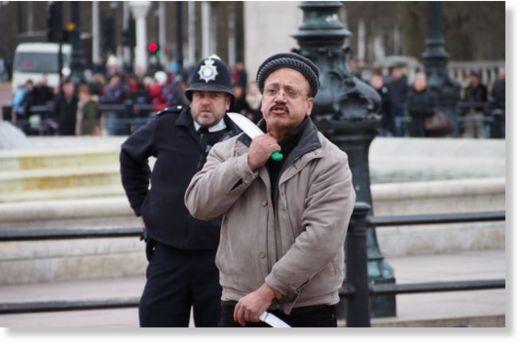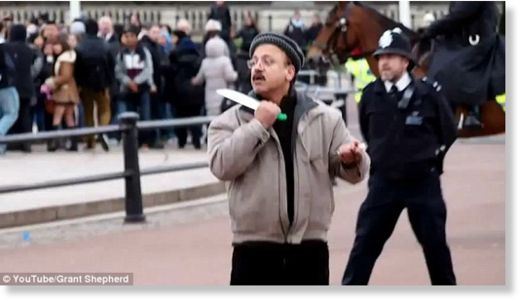 A video showed the man, in his 50s, shouting and holding the knife to his throat as he walked past the Victoria Memorial, towards the gates of the palace.
Police officers shouted to tourists to keep away from the man as they raced to surround him.
The man, who clutched a set of wooden beads and wore a flat woollen hat similar to the pakuls traditionally worn by men in parts of Pakistan and Afghanistan, was later arrested.