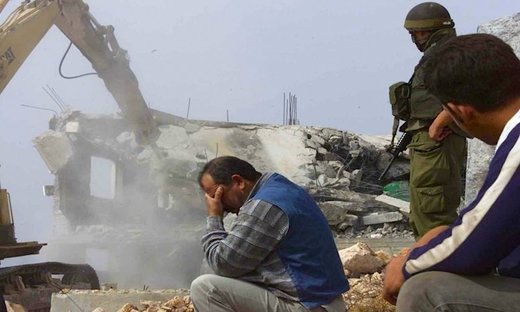 Israeli authorities Wednesday
demolished a Palestinian-owned building in Jerusalem
, as well as demolished
residential structures and animal barns
near Nablus, local sources said.
In Jerusalem,
Israeli police accompanied by bulldozers broke into at-Tour neighborhood
in the city, where they
demolished a three-story building under the pretext of construction without a permit.
The demolished building comprised six apartments, WAFA reported.
Israeli authorities had not issued a notification regarding their intent to demolish the building.
Meanwhile,
Israeli troops stormed the village of Tana, East of Nablus,
and proceeded to demolish a number of Palestinian-owned
residential structures and animal barns
, also for being built without an Israeli permit. The village is located in
Area C in the West Ban
k, under complete Israeli control.
Issuance of construction permits by Israeli authorities for Palestinians in Area C and in Jerusalem, unlike for Israeli settlers, requires unreasonable fees that most Palestinians cannot afford to pay.
Over the course of 2015, Israel demolished 521 structures in Area C as well as in East Jerusalem, displacing 636 people, according to the UN monitoring group OCHA.
The vast majority of these demolitions were carried out on the grounds of construction without a permit. Between 2010 and 2014,
only 1.5 percent of applications for building permits in Area C were approved by Israeli occupation authorities
, OCHA adds.