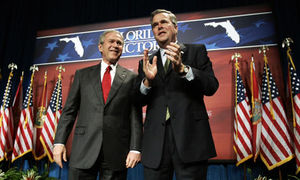 Former Florida governor was critical of current field in a speech this week, prompting rumours he could be a surprise contender
Speculation that a late challenger might still emerge in the increasingly bitter race for the Republican presidential nomination is set to surge after former Florida governor Jeb Bush made remarks criticising the current field.
Bush, who is the brother of President George W Bush and son of President George Bush Sr, is a beloved figure among many conservatives who see him as a strong and charismatic leader who is popular in the must-win swing state of Florida.
That contrasts with a widespread unease among many Republican leaders and grassroots activists with the remaining crop of Republican candidates and the vitriolic nature of the fight between frontrunner Mitt Romney and his main challengers Rick Santorum and Newt Gingrich.
In answers to questions from the audience after a speech in Dallas on Thursday, Bush cautioned the remaining Republican campaigns from drifting so far to the right that they put off the key independent voters needed to beat President Barack Obama in November.
"I think it's important for the candidates to recognise though they have to appeal to primary voters, and not turn off independent voters that will be part of a winning coalition," Bush told the audience
according to CBS news
.