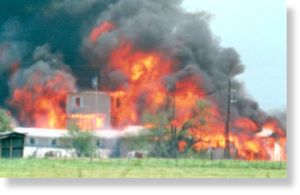 The accusation "cult" is almost literally a "kiss of death" in our world, most particularly since September 11, 2001 when - allegedly - 19 fanatical Islamic terrorists - brought the most powerful nation on earth to its knees (or seemingly.) There were years of preparation for this event, including numerous very public "cult" events - Jonestown, Waco, Heaven's Gate, Solar Temple, Satanic Ritual Abuse cases, etc - that set the stage in the minds of the masses. By the time 9-11 rolled around, all you had to do was whisper "cult" and the nation was ready to march on the castle with firebrands and pitchforks.
So, it is not a good idea to use the word "cult" lightly in view of this hystericized societal state. (Never mind the fact that the word itself has drastically changed in meaning.)
As I mentioned in my article yesterday, on first reading about Eric Pepin accused of being a cult leader, having been falsely, slanderously, and libelously accused of same myself, my first instinct was to think "hang on a minute!" But, as I noted, reading further, there were too many troubling signs of a lot more below the surface of this glitch in the life of Eric Pepin when he was caught, literally, with his pants down.
We have been collecting data about Eric from the net (and elsewhere) so as to be better equipped to deal with someone who has egregiously attacked our right to investigate our world and warn our readers of potential dangers. This information is continually being added to the forum thread about Eric Pepin that is the object of his lawsuit as reported yesterday. Curiously, Rick Ross's pages about Eric Pepin have disappeared except for google cache...
And so, in view of the current situation of Eric Pepin and the Higher Balance Institute vis a vis sott.net, we thought it would be helpful to our readers to reprise an older article that lays out a lot of informational background to the psy-op games being played in our world and on the internet in terms of social and ideological vectoring. Remember, different ideologies can mask the same pathological behavior...