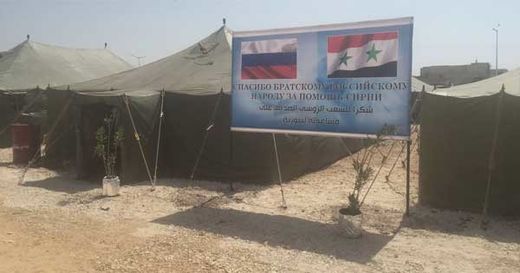 Now Russia starts construction of secure refugee camps in Syria, in cooperation with local authorities.
Russia has set up a first reception center for 500 refugees at a racetrack in the Syrian city of Hama. There are tents, four field kitchens, dining rooms and sanitary facilities, writes the German-speaking newspaper
Sputnik
.
During the past week, two Russian transport aircraft have flown 80 tons of supplies to the crisis area. The Russian planes have brought 15 tons of food and other supplies.
At the opening of the camp, the governor of the province of Hama, Hassan Omar Haljaf, and representatives of the Syrian military attended.
In his speech, the Governor thanked Russia for its help.
During the four-year war in Syria, more than six million people have lost their homes.
Most have fled to Lebanon, Turkey and Jordan. Some have sought asylum in EU countries.
This is of course how it should be done. Giving aid where it's needed. Where the costs are thousand times cheaper than importing refugees to Europe. Where the culture is what they are used to. Where the climate is what they are used to. Again Russia shows more common sense than the West, sorry to say.
.