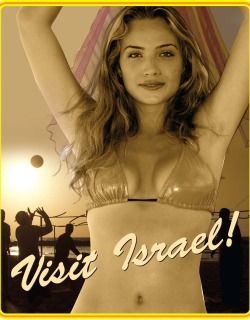 Sexy Photo Shoots Amount to Marketing Mission Impossible
The thousands of scantily clothed bikers, skateboarders, walkers, hawkers, gawkers and performers were simply taking advantage of another breezy, crystal clear Southern California day. They had fought their way valiantly through relentless freeway traffic to participate in the year-round weekend ritual of parading down Los Angeles' bohemian thoroughfare, the Venice Beach boardwalk.
This was not a place you would think would inspire deep thoughts about Israel's increasingly desperate efforts to brand itself - and the wastefulness of all the dollars contributed by American Jewish organizations to mount a defense in the media of the Jewish state. But that's exactly where my mind went when I came upon a food truck dispensing thousands of little containers of hummus.
Along a stretch of Venice Beach, tables were set up, covered with colorful tablecloths and bowls of fresh limes, lemons, red peppers and other fruits and vegetables. Hundreds of young people were seated, giggling and diving into their free samples.
Signs were posted that this event was sponsored by Sabra Foods, the makers of "Mediterranean Dips."